2-Channel Video Installation, Stereo, 2020
(Projection: 18:52 min Full HD, Stereo / Display: 18:52 min Full HD, silent)

Phantom Business was filmed on "Murphy Ranch", an abandoned property in Rustic Canyon, Los Angeles, California.
The Ranch was built in the 1930s by affluent couple Winona and Norman Stephens, sympathizers of the anti-semitic, white supremacist Silver Legion of America. Designed as a base for Nazi activities in the U.S., it was intended to be capable of being self-sustaining for a long period. The activities on the compound were led by a mysterious German known only by the name of 'Herr Schmidt', who claimed to have supernatural powers.
The site is currently owned by the City of Los Angeles.
Conceived as a 2-Channel video installation, Phantom Business combines differing aesthetics, sizes and rhythms: The first channel consists of a large-scale projection displaying digitally altered, fast-paste video footage shot on Murphy Ranch. Only the overlapping outlines of the filmed objects are visible; the actual image - the sensational center of interest - is not shown and must be deciphered by the viewer. The second channel is a slow-paste descriptive text montage presented on an OLED display that is positioned on the floor in front of the projection.
2-Kanal Video Installation, Stereo, 2020
(Projektion: 18:52 min Full HD, Stereo / Display: 18:52 min Full HD, stumm)
Phantom Business wurde auf der "Murphy Ranch" gedreht, einem verlassenen Grundstück im Rustic Canyon in Los Angeles, Kalifornien.
Die Ranch wurde in den 1930er Jahren vom wohlhabenden Ehepaar Winona und Norman Stephens erbaut, die Sympathisanten der antisemitischen, weißen Rassisten der Silver Legion of America waren. Sie war als Stützpunkt für die Aktivitäten der Nazis in den USA gedacht und war dafür ausgerichtet, sich über einen langen Zeitraum selbst versorgen zu können. Die Aktivitäten auf dem Gelände wurden von einem mysteriösen Deutschen geleitet, der nur unter dem Namen "Herr Schmidt" bekannt war und behauptete, übernatürliche Kräfte zu besitzen.
Das Gelände befindet sich derzeit im Besitz der Stadt Los Angeles.
Als 2-Kanal-Videoinstallation konzipiert, kombiniert Phantom Business unterschiedliche Ästhetiken, Größen und Rhythmen: Der erste Kanal ist eine Großprojektion, die digital verändertes, schnell geschnittenes Videomaterial zeigt, das auf der Murphy Ranch gedreht wurde. Nur die sich überlagernden Umrisse der gefilmten Objekte sind sichtbar, das vollständige Bild - das sensationsversprechende Zentrum des Interesses - wird nicht gezeigt und muss vom Betrachter entschlüsselt werden. Der zweite Kanal ist eine langsam geschnittene, deskriptive Textmontage, die auf einem OLED-Display präsentiert wird, das auf dem Boden vor der Projektion positioniert ist.
INSTALLATION VIEW (Visualisation)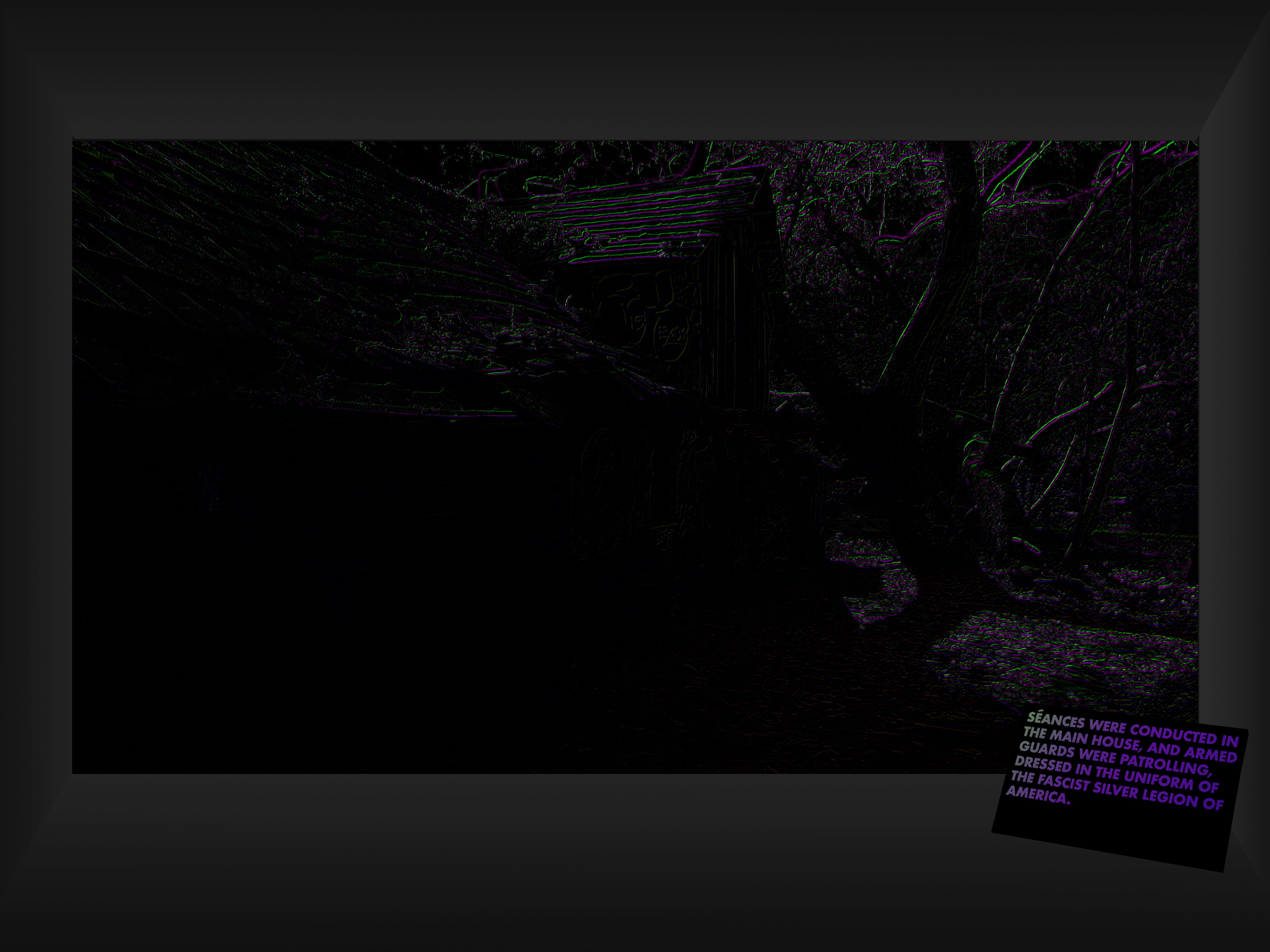 Download pdf (German) with installation notes

VIDEO EXCERPT (Simulation)
Full version on vimeo
VIDEO STILLS